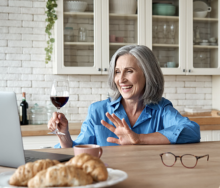 Dating can be daunting at any age, but when you're over 50, it can feel like a completely different ball game. You might be divorced, widowed, or have just never really taken the time to date before. But don't worry - we've got you covered. Here are some tips for dating over 50 with confidence.rite a brief for how to Date Over 50 with confidence
When it comes to taking advantage of technology when it comes to dating over 50, there are a couple of approaches that can help make the process smoother and more effective. The first is to take advantage of online dating websites and apps such as Maturelove.com, Single 60s, or Singles Fifty.
Be prepared for some bumps in the road when dating over 50. It's important to realise that dating again after such a long time can be a steep learning curve, and you may find yourself feeling overwhelmed or frustrated at times. It's important to remember that every potential relationship has its own unique challenges, and it's normal to make mistakes along the way. But by keeping an open mind and an attitude of patience and understanding, you can work through these issues together with your partner.
In addition, it's key to recognise that there is a greater level of complexity when dating over 50 because of past relationships and experiences. Maybe you have children from a previous marriage or have dated people who had different outlooks on life than yours. All these factors should be taken into account when approaching a new relationship; being mindful of how this might affect your current one will help prevent misunderstandings and unnecessary hurt feelings in the future.
It's also crucial to remember that different people come with different expectations and needs, so it's important to really take the time to get to know someone before getting too invested in them. Talking openly about expectations early on will help avoid any confusion down the line while also helping each person feel more secure regarding their desires and objectives within the relationship.
Finally, it's important not to expect too much too soon when dating over 50; instead, focus on just enjoying one another's company without putting pressure on yourselves or each other for anything more than companionship and mutual respect. Building trust takes time; stay patient, kind, honest, understanding, and positive throughout this entire process – chances are it will lead you both towards many happy moments together!