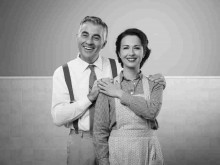 First up, let's get one thing straight. Dating in later in life is not all about the gaps we need to fill. As we grow older we have two things in abundance: experience and knowledge, and it can be a wonderful experience to employ these 'old' skills with someone new.
Old dating skills aren't passed their sell-by date either. The only thing that has really changed about dating over the years is that we are more likely to meet people online. Dates themselves are the same as they ever were and people value good manners and nice conversation just as much as they did first time around.
So feel sure of yourself when it comes to the 'dos' of dating. What about the 'do nots'?
Here's the Mature Love refresher on first date no-nos:
# Do not dwell on the past. This especially applies to past relationships. We appreciate that your former partner may well have been a huge part of your life and of course you need to mention them, but don't spend your entire date saying, 'John always used to say this…' or 'Mary loved it when we did that…' It can be off-putting on a first date and it's better to explore new territory. Territory you can explore together.
#Don't be late. Yes – good manners still count for a lot just like they did in the good 'ol days! Making the right first impression is essential.
#Don't take calls or text. You may well be anxious about the time or need to take a call but try and resist using the phone as a security blanket. Give your date your full attention and respect and you are giving the evening the best chance of success.
#Don't dismiss dates too quickly. Heck, we're older. We are more stuck in our ways. We know our own minds. So it can be easy to dismiss a date as being too opinionated about a subject or person because they are nervous. A second date can often see opinions and attitudes mellow so consider this rather than a hasty retreat.