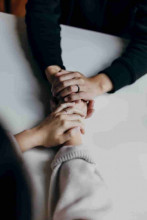 As we have mentioned before at Mature Love, going back to dating after a certain amount of time can indeed be a very daunting process but it doesn't have to be. Here are five tips to help you remain calm whilst online dating:
1. Stay Calm
This is just dating, you are not trying to build a rocket ship! If after some time you decide you want to find that special someone and reignite that missing flame you can do so and at your own leisure. You don't have to rush into everything after all: slow and steady wins the race.
2. Be You
No one does you like you. You are unique, one of a kind and someone out there will fall head over heels for only you.
3. Determine What You Want In A Partner
Who says you can't be picky when it comes to finding the right partner? If you have been divorced or separated you may want to tread carefully in what you look for in your next partner.
4. Treat Yourself
So, you have managed to get a date with that gorgeous women/man you have been chatting to for a while. Why not treat yourself to a new outfit? Or maybe a spa trip? This is a great way to boost your inner confidence and bring the best out of yourself.
5. Don't Loose Hope
Ok so that date didn't go quite to plan, but don't whatever you do loose hope. Just because it wasn't meant to be, doesn't mean it is going to be the same with every person you date. One day, it will just happen and you will just know it's meant to be.
Until then, keep your chin up, breathe and enjoy Mature Love.