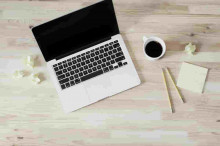 Last Christmas, much to the delight of her two grandsons, Pauline treated herself to an iPad. Pauline is 56 and loves her new toy. She spent a few months getting to grips with emails, playing online Sudoku and even downloaded an App that lets her shop at her favourite supermarket at the touch of a button.
She was a convert and loved being internet-savvy for the first time in her life. Then a friend mentioned online dating. Her response: "What – at MY age?" Pauline had divorced from Alan more than 5 years earlier but still hadn't found the confidence or opportunity to look for love.
The truth is, the internet is a modern and easy place to find a new partner – and works especially well for older singles. Mature dating sites are some of the most popular online today and everyday senior surfers in their 40s, 50s and 60s find success on top sites such as maturelove.com.
So how do you know if internet dating is for you?
Check Out Our Top Reasons To Give Online A Go:
Internet dating gives you the chance to meet people that might not otherwise be in your social circle. As we get older, opportunities to mingle and meet new people become more limited but online you can connect with someone new within minutes of logging on.
The chances of you connecting with someone like you increases online. Sites such as maturelove.com match your likes, location and interests against 1000s of potential dates.
Once you connect with someone online, Psychology Today magazine recently said: "Internet dating statistically offers a better chance of getting a first date." Friendly messaging and emailing eases the pressure and is a natural way to lead to meeting up.
Personality comes first online. Yes, you generally post a picture but it's easier to get your personality to work for you instead of instantly being judged on how you look. Face to face meetings are so much easier once you have already had a few chats or laughs online.
You get to meet people in the comfort or your own home. A few taps of the keyboard and you could be kicking off your new dating social life at 2pm on a Tuesday afternoon. You are in control; you are in your comfort zone and will come across as happy and confident.
Online dating provides excellent value for money. Regular dating can mean we kiss a few frogs before we meet a prince – and that can mean the cost of new outfits, drinks in smart bars and taxis home.
Looking for love online reduces the risk of rejection. A good site will match you with like-minded older singles. It can't promise fireworks at your first meet-up; but it greatly lowers the risk of it ending in disaster. This is so much more important for mature daters who may have been through a divorce or bereavement.
Now you have broadband at home you are used to speed, right? Internet dating works so much faster than waiting for a friend of a friend to fix you up. In fact, some say the only downside is that it can happen so quickly it feels too easy!